Andres Lara
Motivational Speaker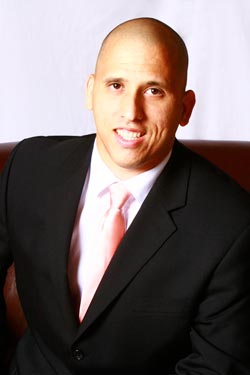 Andres graduated with honors from Montclair State University with a major in Speech Communication and a minor in creative writing. He is the author of several international-selling books including "Inspire The Sleeping Giant Within" which is published in Korea, Africa, and USA; "How To Stay Motivated During Difficult Times" and "The Finish Line"
He has appeared in famous radio shows and been featured in countless news papers all around the country. He's currently the CEO of A. Success Training, former president of Inspiration Magazine, and a national known speaker.
His messages reach millions every week in 33 countries around the globe through his site at
http://www.TheCubanGuy.com
. But what inspires his audiences the most is that he has accomplished all that by the age of 24.
Yet not everything came on a silver spoon for him. You see, at the age of 16 he escaped from Cuba. He arrived to America not knowing a word of English, without his parents, without any money, and was even homeless for a while.
How was he able to turn his life around? How did he go from living his worst nightmare (living on the streets) to living his dream? What inspired him? What had him succeed in spite of all his challenges?
That's what he will reveal in his sessions.
What Others Say About Andres
"Andres is one of the greatest motivational minds today."
WFAN Sports Radio - NY
"Your heartfelt stories and strategies inspired our students to take immediate action."
Beth Diggs, Montclair State University
"Andres Lara is an outstanding speaker his messages are life transforming."
Urban Times News - NJ
"Our students were inspired by your fun, energetic, yet thought-provoking message."
Ivelisse Silva, Rowan University
"Your program was entertaining and educational. Our staff loved every minute of it."
Susan Troudux HR Manager – Albuquerque, NM
"Your session wasn't a just sit and listen session. It was energizing, fun, and interactive."
Mary F. – GM Corporation Education Specialist - Janesville, WI